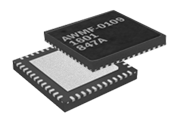 San Francisco CA, 25 May 2016: Anokiwave Inc., an innovative company providing highly integrated core IC solutions for mmW markets and AESA based solutions, today announced the worldwide release of the Ka-band Tx Core IC family for earth terminal SATCOM applications. This Tx IC family coupled with Anokiwave's K-band SATCOM Rx ICs provide a complete K/Ka-band earth terminal solution enabling auto-alignment of fixed earth terminals and auto pointing for SATCOM on the move applications using GEO satellite space assets.
The AWMF-0109 operates at 27.5-30.0 GHz, supports 4 dual polarization elements with full programmable polarization flexibility and 5-bit phase and gain control. The AWMF-0113 supports 8 single polarization elements with the same frequency range as the AWMF-0109. Each device provides 22 dB of gain per channel with +12 dBm output power per polarization. Additional features include system controlled gain compensation over temperature and temperature reporting via the serial control interface bus. Anokiwave's patent-pending IP blocks implemented in silicon technology enable planar antenna design at K- and Ka-band with reduced system size, weight, and cost.
"The Ka-band Tx IC family is an important addition to our product offering for SATCOM and we believe this solution will set a new standard in the industry for AESA multi-element beam forming SATCOM ICs," states Robert Donahue, Anokiwave CEO. "Affordable AESAs are critical to enable rapidly emerging SATCOM on the move terminals that leverage the ever increasing capacity of GEO satellites."
The AWMF-0109 is a highly integrated transmit IC in a commercial QFN-style surface mount plastic package with dimensions of 6mm x 6mm x 0.9mm, easily fitting within the typical 5 mm lattice spacing at 30 GHz. The IC is controlled though a 5-wire serial to parallel interface (SPI) bus and has ESD protection on all pins.
Availability:
Anokiwave offers innovator kits and evaluation kits to customers for early access to the technology. The kits include boards with the Ka-band IC, USB-SPI Interface module with drivers, and all required cables. Pilot production deliveries are available in June, 2016 with full production quantities available in Q4, 2016.
About Anokiwave:
Anokiwave is a cutting-edge provider of highly integrated IC solutions that enable emerging mmW markets and Active Antenna based solutions. Anokiwave's creative system architectures and optimal selection of semiconductor technologies solve the toughest engineering problems.
Anokiwave operates design centers in San Diego, CA, Austin, TX, and Boston MA, with sales offices in Taipei, Taiwan, Boston, MA, and San Diego CA. Additional information can be found at www.anokiwave.com.
Press Contact:
Amy Corman
amy.corman@anokiwave.com
Stay in Touch with Anokiwave: