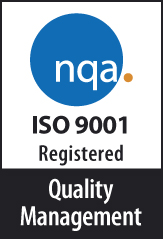 San Diego CA, 9 February 2016: Anokiwave, Inc., an innovative company providing highly integrated core IC solutions for mmW markets and AESA based solutions, today announced it has achieved ISO 9001:2008 certification after a thorough analysis of its management and organizational processes by NQA, an independent, third party registrar.
ISO 9001 is the internationally recognized standard for Quality Management Systems. It provides a framework and set of principles that ensure a common-sense approach to the management of an organization to consistently satisfy customers and other stakeholders. The ISO 9001:2008 standard provides numerous requirements that must be met in order to receive certification, including:
A set of procedures that cover all key processes in the business,
Monitoring processes to ensure they are effective,
Maintaining adequate records,
Checking output for defects, with appropriate corrective action where necessary,
Regularly reviewing individual processes and the quality system itself for effectiveness, and
Facilitating continual improvement.
By receiving this certification from an industry-recognized, third-party registrar, Anokiwave assures customers that they are committed to delivering world-class service and products. Attaining the ISO 9001:2008 certification involved a self-evaluation process undertaken over the course of nine months during which Anokiwave fully assessed its quality system and procedures. These processes were then validated through an audit conducted by an external, accredited organization, NQA. Anokiwave has committed to continuously assess and improve its systems and processes and undergo follow-up audits annually.
"Achieving ISO 9001:2008 certification demonstrates our employee's unwavering commitment to provide our customers with the revolutionary, high quality products and world class services they have come to expect from Anokiwave," said Deb Dendy, VP of Operations. Reflecting the company's excellent working relationships in the industry, she added "Several customers and suppliers provided encouragement and advice during our certification process. We are thankful for their valuable contributions and pledge to continue improving our business practices and focus on what matters most to make our customers successful."
About Anokiwave:
Anokiwave is a cutting-edge provider of highly integrated IC solutions that enable emerging mmW markets and Active Antenna based solutions. Anokiwave's creative system architectures and optimal selection of semiconductor technologies solve the toughest engineering problems.
Anokiwave operates design centers in San Diego, CA, Austin, TX, and Boston MA, with sales offices in Taipei, Taiwan, Boston, MA, and San Diego CA. Additional information can be found at www.anokiwave.com.
Press Contact:
Amy Corman
amy.corman@anokiwave.com
Stay in Touch with Anokiwave: