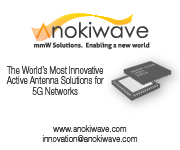 San Diego CA, 16 November 2016: Anokiwave, Inc., an innovative company providing highly integrated core IC solutions for mmW markets and AESA based solutions, today announced Dr. Ian Gresham, Anokiwave Distinguished Fellow of Technology, will present at the IWPC Interactive Workshop entitled "What Role will mmWave Technologies Play in 5G?" to be held November 16–18, 2016 in San Jose, CA, USA. His presentation will be included in the Technology Enablers session on Friday, November 18th, 2016.
In the interactive workshop that considers when and how 5G will be deployed with special focus on mmW systems that will deliver multiple gigabit-per-second data rates with improved mobility, latency, volume, and service deployment times over current 4G systems, Dr. Gresham will discuss the changing mmW landscape, why active antenna technology is best for 5G, and offer an overview of Anokiwave's 5G IC solutions during his presentation entitled "The Last (Mile) Will Be First – Enabling Fixed Wireless and 5G Basestations with Active Antenna RFICs for 2017 Deployment".
"As we predicted in 2014, "Moore's Law" has enabled the massive migration of wireless communication and radar solutions into the mmW frequency spectrum with near complete reliance on silicon based solutions," states David Corman, Anokiwave Chief Systems Architect. "X-W Band Active Antenna products will be embedded with our cell phones, lap-tops, homes, cars, and almost every other data driven application we touch and Anokiwave is well positioned to embrace this shift with our unique portfolio of Active Antenna Core ICs for 5G."
Dr. Gresham, a 25 year veteran in the mmW industry and IEEE Fellow, is working on the development of Anokiwave's 5G products and technology driving the industry with product offerings available today for early 5G systems trials.
About the IWPC What Role Will mmW Technologies Play in 5G? Workshop:
Sponsored by the International Wireless Industry Consortium™ (IWPC), the Antenna Innovation and Evolution Workshop will be held in San Jose, CA, USA November 16–18, 2016. The conference addresses the question, "When and How Will 5G be Deployed?" The workshop will also explore topics such as "Exploring New and Emerging Use-Cases, Trials, Opportunities, Challenges and Technology Innovation." If you would like to learn more about IWPC, please visit www.iwpc.org.
About Anokiwave:
Anokiwave is a cutting-edge provider of highly integrated IC solutions that enable emerging mmW markets and Active Antenna based solutions. Anokiwave's creative system architectures and optimal selection of semiconductor technologies solve the toughest engineering problems.
Anokiwave operates design centers in San Diego, CA, Austin, TX, and Boston MA, with sales offices in Taipei, Taiwan, Boston, MA, and San Diego CA. Additional information can be found at www.anokiwave.com.
Press Contact:
Amy Corman
amy.corman@anokiwave.com
Stay in Touch with Anokiwave: