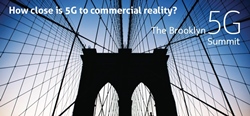 San Diego CA, 20 April 2017: Anokiwave, Inc., an innovative company providing highly integrated IC solutions for mmW markets and Active Antenna based solutions, today announced Dr. Ian Gresham, Anokiwave Technology Fellow, will present at the 4th Brooklyn 5G summit, driven by this year's theme, "How close is 5G to commercial reality?" to be held April 19–21, 2017 in Brooklyn NY, USA. His presentation will be included in the day 3 afternoon 5G/IoT Technology session.
The summit brings together mobile industry R&D leaders in business, government, and academia to explore the future of 5G wireless. During the 4th annual summit, which will present and discuss trends aimed at discovering "what's working and what's not", and the best approaches in overcoming the challenges of making 5G a commercial reality, Dr. Gresham will discuss the changing mmW landscape, emphasizing that 5G is happening now, and will offer an overview of Anokiwave's 5G solutions during his presentation entitled "mm-wave Phased Arrays for 5G Applications".
"5G fixed wireless is rolling out this year with multiple deployments scheduled over the next two years. Mm-wave phased array radio heads are needed today to meet this timeline," states David Corman, Anokiwave Chief Systems Architect. "Anokiwave is well positioned to embrace this need with a unique portfolio of Active Antenna solutions for mmW 5G networks that are available today."
Dr. Gresham, a 25 year veteran in the mmW industry and IEEE Fellow, is working on the development of Anokiwave's 5G products and technology driving the industry with product offerings available today for mmW 5G systems trials.
About the Brooklyn 5G Summit:
Nokia and the NYU WIRELESS research center at NYU Tandon School of Engineering are jointly organizing the fourth Brooklyn 5G Summit in Brooklyn, NY to be held on April 19–21, 2017. The fourth summit will build on the achievements of the past three years, driven by this year's theme, "How close is 5G to commercial reality?" This year's summit will focus on overall 5G end–to–end system design across the entire spectrum range, 5G regulatory aspects, and 5G pre-commercial systems. In addition, we will discuss various use cases for 5G in the evolving Internet of Things (IoT) space by inviting selected start–up companies to share their work in multiple areas. If you would like to learn more about the Brooklyn 5G Summit Series, please visit brooklyn5gsummit.com
About Anokiwave:
Anokiwave is a cutting-edge provider of highly integrated IC solutions that enable emerging mmW markets and Active Antenna based solutions. Anokiwave's creative system architectures and optimal selection of semiconductor technologies solve the toughest engineering problems.
Anokiwave operates design centers in San Diego, CA, Austin, TX, and Boston MA, with sales offices in Taipei, Taiwan, Boston, MA, and San Diego CA. Additional information can be found at www.anokiwave.com.
Press Contact:
Amy Corman
amy.corman@anokiwave.com
Stay in Touch with Anokiwave: