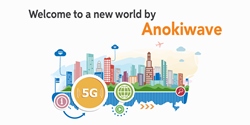 San Diego CA, 18 July 2017: Anokiwave today announced Dr. Ian Gresham, Anokiwave Technology Fellow, will present at the 2nd annual Global Technology Congress to be held July 19–21, 2017 in Shanghai, China. Dr. Gresham will participate 5G Ecosystem panel during the day 1 5G Ecosystem session and will present during the day 2 New Network Architecture session.
The 5G technology congress is focused on 5G technology as it is positioned to address the demands and business contexts of 2020 and beyond by enabling a fully mobile and connected society that is characterized by a tremendous growth in connectivity, traffic density and volume as well as a broad range of use cases and business models. Dr. Gresham will discuss the changing mmW active antenna landscape and will offer an overview of Anokiwave's 5G solutions during his presentation.
"A major challenge in the 5G mmW market is understanding methods to produce commercially viable phased array antennas," states David Corman, Anokiwave Chief Systems Architect. "We believe that all silicon planar arrays are the key for the industrialization of mmW 5G networks. Anokiwave is well positioned to embrace this need with a unique portfolio of Active Antenna solutions for mmW 5G networks"
Dr. Gresham, a 25-year veteran in the mmW industry and IEEE Fellow, is working on the development of Anokiwave's 5G products and technology driving the industry with product offerings available today for mmW 5G systems trials.
About the Global 5G Technology Congress:
The Global 5G Technology Congress 2017 is the largest technology & mobile industry event in Asia. After tremendous success in 2016, 5GTC 2017 returns to Shanghai July 19–21, 2017. There will be more than 50 leading companies from around the world to showcase products and cutting-edge technologies for 5G. 5GTC 2017 will include a series of focused summits for industry leaders to demonstrate leadership, share insights, and networking. If you would like to learn more about the 5G Technology Congress, please visit 5gtf.com
About Anokiwave:
Anokiwave is a cutting-edge provider of highly integrated IC solutions that enable emerging mmW markets and Active Antenna based solutions. Anokiwave's creative system architectures and optimal selection of semiconductor technologies solve the toughest engineering problems.
Anokiwave operates design centers in San Diego, CA, Austin, TX, and Boston MA, with sales offices in Taipei, Taiwan, Boston, MA, and San Diego CA. Additional information can be found at www.anokiwave.com.
Press Contact:
Amy Corman
amy.corman@anokiwave.com
Stay in Touch with Anokiwave: