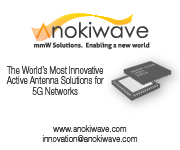 San Diego CA, 12 October 2017: Anokiwave, Inc., an innovative company providing highly integrated IC solutions for mmW markets and Active Antenna based solutions, today announced David W. Corman, Anokiwave's Chief Systems Architect, will present at the IWPC Interactive Workshop entitled "5G mmWave Opportunities and Challenges" to be held October 16-18, 2016 in Austin, TX, USA. His presentation will be included in the Technology Enablers session on Wednesday, October 18th, 2017.
In the interactive workshop that will address the fundamental issues the industry faces as we approach the first release of the 5G standards, Mr. Corman will discuss how silicon based arrays are the path to mass industrialization of active antennas during his presentation entitled "Industrializing 5G mmW Radio Front Ends with High Performance, All-Silicon Arrays".
"Beamforming in active antennas is not new technology and has been around for decades," states Shmuel Ravid, Anokiwave Chief Engineer. "The revolutionary change is that we are able to industrialize these beamforming active antennas now for 5G. All-silicon arrays are very power efficient because we can place the IC directly at the radiating elements. In addition, the ICs allow for self-testing, eliminating the need to calibrate the array, thus offering a path to high volume manufacturing."
Mr. Corman, a 37-year veteran in the mmW industry with 48 patents worldwide, has been the main systems architect for Anokiwave's portfolio of silicon beamforming ICs, and firmly believes that increased integration and the elimination of array calibration are primary enablers for cost competitive, high volume 5G systems.
About the IWPC 5G mmWave Opportunities and Challenges Workshop:
Sponsored by the International Wireless Industry Consortium™ (IWPC), the 5G mmWave Opportunities and Challenges Workshop will be held in Austin, TX, USA October 16 – 18. The conference addresses the question, "How will the industry design and operate 5G Radio Access Networks?" The workshop will also explore topics such as "Assessing which new and emerging unique use cases will evolve, device challenges and roadmaps, as well as RF component challenges and innovation." If you would like to learn more about IWPC, please visit www.iwpc.org.
About Anokiwave:
Anokiwave is a cutting-edge provider of highly integrated IC solutions that enable emerging mmW markets and Active Antenna based solutions. Anokiwave's creative system architectures and optimal selection of semiconductor technologies solve the toughest engineering problems.
Anokiwave operates design centers in San Diego, CA, Austin, TX, and Boston MA, with sales offices in Taipei, Taiwan, Boston, MA, and San Diego CA. Additional information can be found at www.anokiwave.com.
Press Contact:
Amy Corman
amy.corman@anokiwave.com
Stay in Touch with Anokiwave: