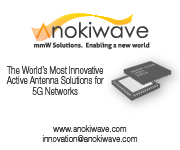 San Diego CA, 29 November 2016: Anokiwave, Inc., an innovative company providing highly integrated core IC solutions for mmW markets and AESA based solutions, today announced their inaugural 5G Quad Core IC, the AWMF-0108, has been named the best new communications product for 2016 by Electronic Design. The AWMF-0108 is the world's first commercially available Ka-band quad core IC for 5G.
The AWMF-0108 is designed to enable active beamforming antennas for fixed and mobile access 5G networking equipment. It operates in the 27.5-30.0 GHz band, supports 4 Tx/Rx radiating elements, and includes all requisite beam steering controls for 5-bit phase and gain control. The device operates in half duplex, enabling a single antenna to support both Tx and Rx operation. Packaged in a 48-pin 6x6mm QFN, the device easily fits within the 28 GHz lattice space. Anokiwave's patent-pending IP blocks implemented in silicon technology enable low-cost hybrid beam forming for multi-antenna arrays with high energy efficiency.
"It is clear that low-cost beamforming at the aperture is a fundamental component of successful 5G systems deployment," states David Corman, Anokiwave Chief Systems Architect. "Commercially viable beamforming will require IC solutions with increased functional density and capability within a single die/package, thus enabling large-scale planar arrays. Anokiwave is well positioned for this market with products available now for early 5G trials."
The Electronic Design article, dated November 11th, 2016, may be found at the following link: Ka-band Transceiver Implements MIMO and Beamforming for 5G.
About Anokiwave:
Anokiwave is a cutting-edge provider of highly integrated IC solutions that enable emerging mmW markets and Active Antenna based solutions. Anokiwave's creative system architectures and optimal selection of semiconductor technologies solve the toughest engineering problems.
Anokiwave operates design centers in San Diego, CA, Austin, TX, and Boston MA, with sales offices in Taipei, Taiwan, Boston, MA, and San Diego CA. Additional information can be found at www.anokiwave.com.
Press Contact:
Amy Corman
amy.corman@anokiwave.com
Stay in Touch with Anokiwave: