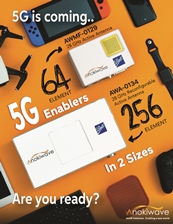 San Diego CA, 6 December 2017: Anokiwave, Inc., an innovative company providing highly integrated IC solutions for mmW markets and Active Antenna based solutions, today announced its 256-element mmW Active Antenna Innovator's Kit, the AWA-0134, has been listed as one of the top products of 2017 by Microwaves&RF.
Developed with Ball Aerospace for mmW 5G wireless markets, the AWA-0134 is a 28 GHz, 256-element, reconfigurable active electronically scanned antenna for 5G mm-wave communication applications. The AWA-0134 represents the first commercially available 256-element Active Antenna at 28 GHz to enable the development and measurement of radio links and channel models, as well as for rapid prototyping and testing of electronically beam-steered radio links through low-latency beam update rates. The Active Antenna is driven by the Anokiwave AWMF-0108 28GHz 5G Quad Core IC with embedded functions for remote telemetry and low-latency beam steering™.
"With 5G wireless network deployments expected as early as 2018, Anokiwave is one of the first companies to have ICs that enable real time active beam steering at mmW," states James Kimery, director of RF and Wireless Research at NI. "With Anokiwave's Active Antenna Innovator Kit, we have been able to show a real-time 5G link working in our lab."
"Anokiwave is proud to be recognized in this list of innovative products for 2017," states Carl Frank, Anokiwave COO. "The Active Antenna, driven by our Si AWMF-0108 IC, which integrates the required beam steering functions with the traditional transmit/receive functionality, enables real time active beam steering applications in a single 256-element or in a 4x64 element configuration for 4x4 MIMO testing. The Active Antenna demonstrates the performance achievable using low power silicon integration and efficient antenna layout and design. Anokiwave continues to execute on an aggressive strategy to innovate and industrialize silicon integrated circuits required to enable the next-generation of Active Antenna technology for 5G mm-wave wireless systems."
The Microwaves&RF article, dated November 30, 2017 may be found at the following link: top-products-2017.
About Anokiwave:
Anokiwave is a cutting-edge provider of highly integrated IC solutions that enable emerging mmW markets and Active Antenna based solutions. Anokiwave's creative system architectures and optimal selection of semiconductor technologies solve the toughest engineering problems.
Anokiwave operates design centers in San Diego, CA, Austin, TX, and Boston MA, with sales offices in Taipei, Taiwan, Boston, MA, and San Diego CA. Additional information can be found at www.anokiwave.com.
Press Contact:
Amy Corman
amy.corman@anokiwave.com
Stay in Touch with Anokiwave: