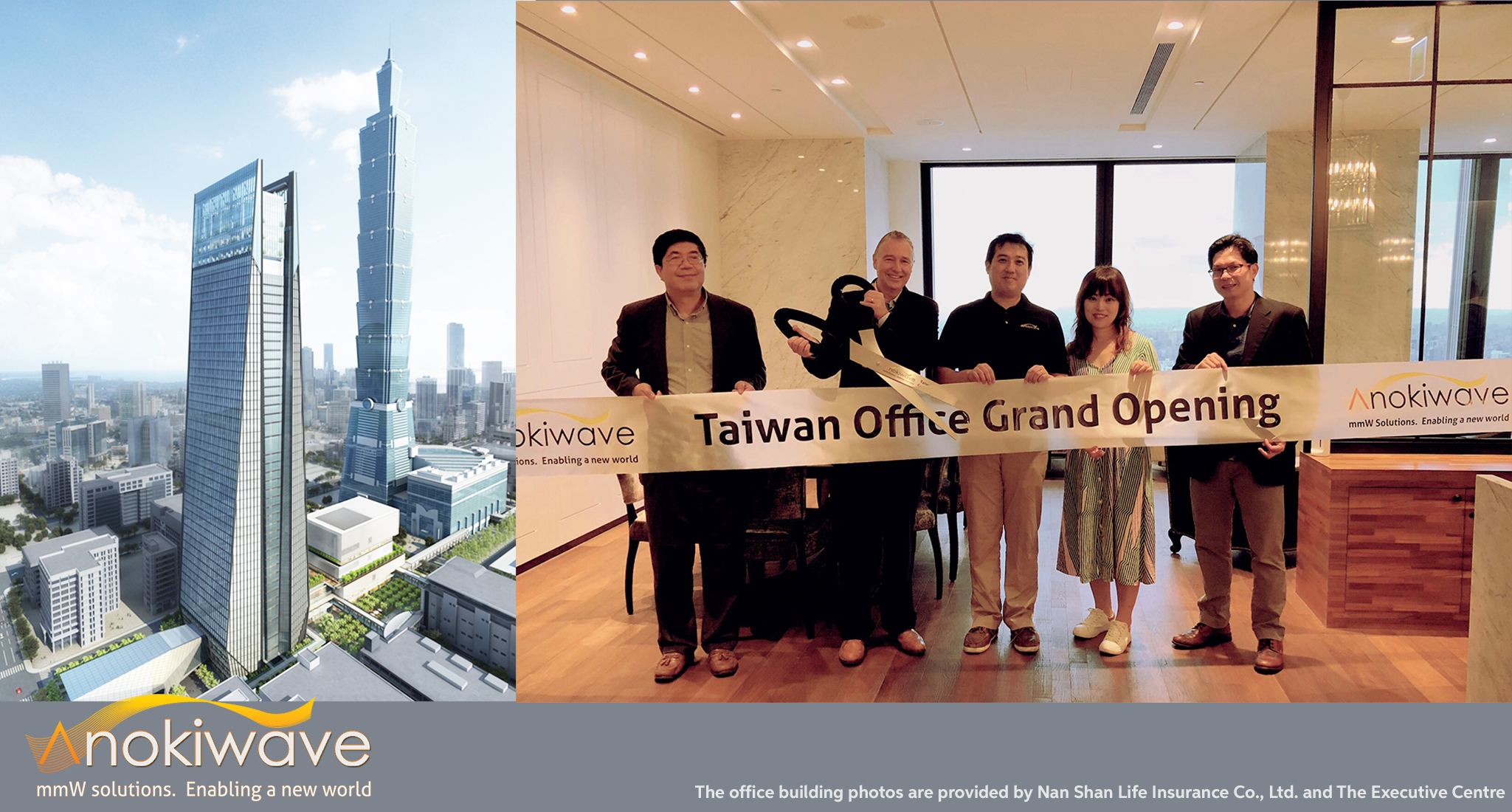 San Diego CA, 2 October 2018: Anokiwave, Inc., an innovative company providing highly integrated IC solutions for mmW markets and Active Antenna based solutions, today announced the opening of its latest office in the Xinyi District in Taipei, Taiwan. The new Taiwan office offers sales and application engineering functions; allowing Anokiwave to enhance its support to its growing customer base in the region, to deepen our engagement with our local distribution partners, and to expand our reach to our customers by continuing to provide market-leading solutions that will commercialize mmW active antennas with silicon ICs.
The office, located in Taipei Nanshan Plaza in the Xinyi District, Taipei, Taiwan, offers comfortable space for meetings as well as adequate office space for our growing team in the region. The Nanshan Plaza is the second tallest building in Taipei. Its shape resembles that of both hands and has the meaning of "blessing for Taiwan".
"Anokiwave's leadership in the mmW silicon IC solutions and growing customer base in Asia required a presence in the region to accommodate our growing sales and applications support staff," states Abhishek Kapoor, Anokiwave VP of Sales. "The new office represents our strong commitment to the market and the region by offering a high level of service and support to our end users, distributors, and partners."
Anokiwave Inc., celebrating 19 years in business in 2018, now occupies state of the art office spaces in Billerica, MA, San Diego, CA, and Taipei Taiwan. The new Taiwan office contact information details are: Anokiwave, Inc. Level 34, TAIPEI NANSHAN PLAZA, No.100, Songren Rd, Xinyi Dist., Taipei, Taiwan 110. The telephone number is +886–2–8729–5810.
About Anokiwave:
Anokiwave is a cutting-edge provider of highly integrated IC solutions that enable emerging mmW markets and Active Antenna based solutions. Anokiwave's creative system architectures and optimal selection of semiconductor technologies solve the toughest engineering problems.
Anokiwave operates design centers in San Diego, CA, Austin, TX, and Boston MA, with sales offices in Taipei, Taiwan, Boston, MA, and San Diego CA. Additional information can be found at www.anokiwave.com.
Press Contact:
Amy Corman
amy.corman@anokiwave.com
Stay in Touch with Anokiwave: