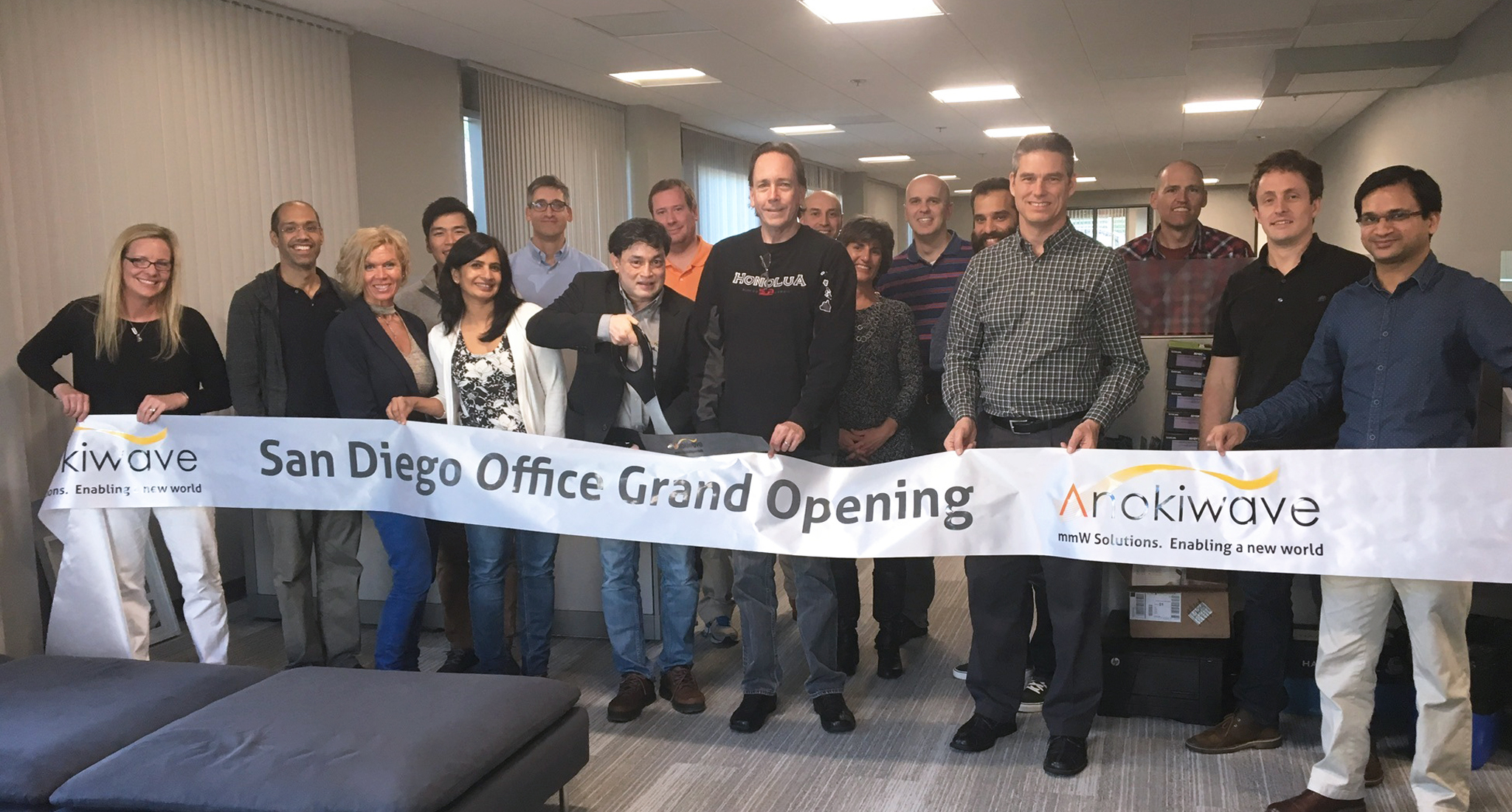 San Diego CA, 28 February 2017: Anokiwave, Inc., an innovative company providing highly integrated IC solutions for mmW markets and Active Antenna based solutions, today announced the relocation of the San Diego headquarters to a custom remodeled office space, doubling the square footage of our prior location to accommodate our growing team in San Diego.
The new modern, functional, open-concept floor plan features a low noise environment suitable for engineering teams with areas suitable for large groups allowing dynamic interaction with adequate space for a planned engineering laboratory.
"Anokiwave's leadership in the 5G, RADAR, and SATCOM Active Antenna ICs for mmW markets required a larger office space to accommodate our growing product portfolio, capabilities, and staff," states Nitin Jain, Anokiwave founder and CTO. Bob Donahue, Anokiwave CEO, added "The highly integrated silicon IC design expertise and innovative culture is at the core of Anokiwave's mission of enabling a new world. Our hard working team will demonstrate continued leadership in the market with exciting new product launches over the next few months building on the 2016 release of AWMF-0108, the world's first commercial 5G 28 GHz active antenna IC."
Anokiwave Inc., celebrating 18 years in business in 2017, now occupies state of the art office with lab spaces in both Billerica, MA and San Diego, CA. The new San Diego office mailing address is 11236 El Camino Real, San Diego, CA 92130, and the main switchboard remains +1-858-972-9910.
About Anokiwave:
Anokiwave is a cutting-edge provider of highly integrated IC solutions that enable emerging mmW markets and Active Antenna based solutions. Anokiwave's creative system architectures and optimal selection of semiconductor technologies solve the toughest engineering problems.
Anokiwave operates design centers in San Diego, CA, Austin, TX, and Boston MA, with sales offices in Taipei, Taiwan, Boston, MA, and San Diego CA. Additional information can be found at www.anokiwave.com.
Press Contact:
Amy Corman
amy.corman@anokiwave.com
Stay in Touch with Anokiwave: