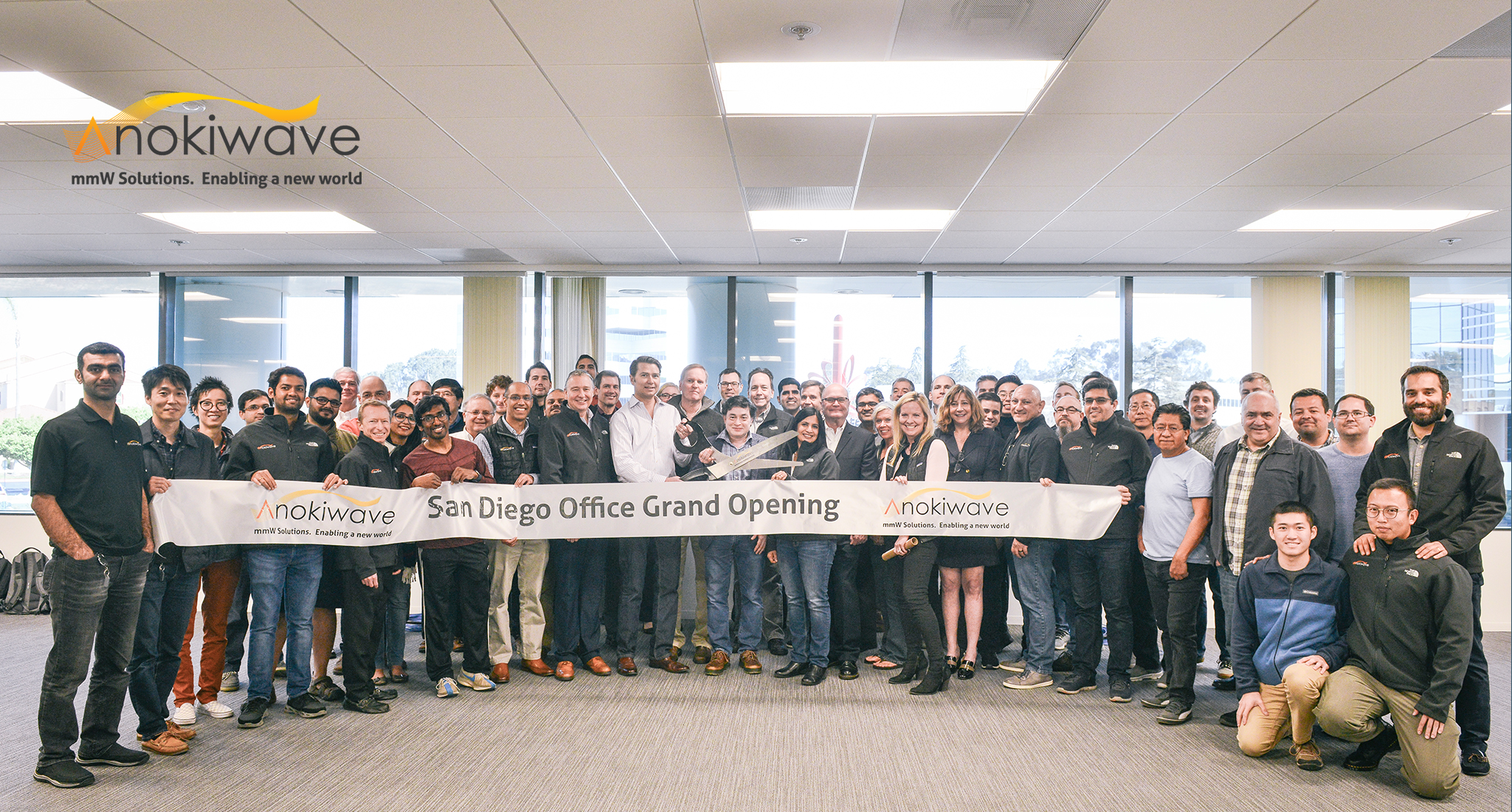 San Diego CA, 11 February 2020: Anokiwave, Inc. today announced the expansion of its San Diego operations to a new facility that will triple its floor space and lab capabilities to meet its growing needs. The location will increase the capabilities of its design center by providing state-of-the-art mmW laboratory for all mmW active antenna and IC design and test, and room to double its local workforce.
The move to Sorrento Towers South, in San Diego's tech hub Sorrento Mesa, was completed in early February 2020. This expansion is driven by Anokiwave's rapid growth in recent years, during which the company has emerged as an innovative leader in technologies critical to 5G and other advanced wireless communications markets. The move comes on the heels of Anokiwave's recent expansion of its design center in Billerica, MA and establishment of a new office in Taiwan. The company is looking to further expand its footprint with additional offices elsewhere for engineering and customer support.
In order to fully characterize the performance of Anokiwave's products in specific customer environments, Anokiwave's new facilities will house a sophisticated mmW laboratory. It incorporates a state-of-the-art anechoic chamber for development of phased array antennas for 5G, satellite communications and radar applications operating up to 50 GHz. The laboratory enables complex antennas and components to be exhaustively tested and evaluated in conformance with exacting customer requirements in all operating modes.
"Last year we celebrated 20 years of being in business and doubled our space in Massachusetts. Now the expansion in San Diego just marks the steep growth trajectory that Anokiwave is on," states Nitin Jain, Anokiwave Founder and Chief Technology Officer. "Anokiwave continues to push the bounds of mmW innovation and enable mmW active antennas at a commercial scale for 5G, SATCOM and radar markets. And this new facility and a larger team will allow us to serve the market at a much broader scale and in more impactful ways than ever before."
Sorrento Towers South also allows the company to meet a key corporate goal to operate in an environmentally sustainable manner. The building is currently getting recertified as a LEED (Leadership in Energy and Environmental Design) facility, and it incorporates many forward-thinking practices such as water efficiency standards, waste and e-waste recycling, green construction, and others.
About Anokiwave:
Anokiwave is a cutting-edge provider of highly integrated IC solutions that enable emerging mmW markets and Active Antenna based solutions. Anokiwave's creative system architectures and optimal selection of semiconductor technologies solve the toughest engineering problems.
Anokiwave operates design centers in San Diego, CA, Austin, TX, and Boston MA, with sales offices in Taipei, Taiwan, Boston, MA, and San Diego CA. Additional information can be found at www.anokiwave.com.
Press Contact:
Amy Corman
amy.corman@anokiwave.com
Stay in Touch with Anokiwave: