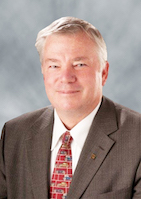 San Diego, CA, 9 April 2020: Anokiwave, Inc., is pleased to announce the appointment of William "Bill" Nevius as Vice President and General Manager of its Aerospace and Defense Portfolio. In this role, Mr. Nevius will lead the company's strategic defense accounts and build upon the long history of successful partnerships in the community to expand its reach into the market with enabling technology for SATCOM, RADAR, EW, COMMS, and Space applications. This appointment comes at a strategic time for Anokiwave with tremendous opportunities for growth in this market by leveraging the advances of mmW Commercial Off the Shelf (COTS) Silicon commercial technologies into aerospace and defense systems. Anokiwave has been providing mmW solutions to the A&D market for more than 20 years, and with Mr. Nevius joining the team will have a more strategic focus in further expanding and bringing value to the defense community.
Mr. Nevius joined Anokiwave in March of 2020 and brings 30 years of experience in the Advanced Defense Systems Industry. Prior to joining Anokiwave, Mr. Nevius held positions within Ball Aerospace as Director C3I, Director Business Development, Advanced Systems Manager, and Program Manager. Bill's background as a Naval Aviator and defense industry executive brings a deep insight and personal experience of the needs and workings of Aerospace and Defense markets.
"Bill is a recognized leader in the aerospace and defense industry and is already exposing Anokiwave to new opportunities and customers," states Carl Frank, Anokiwave COO. "I am confident that Bill's engineering education, military operations, procurement experience, and successful industry leadership will serve Anokiwave well in his new role of refining and expanding our push into Aerospace and Defense markets."
Bill holds a bachelor's degree in Mechanical Engineering (US Air Force Academy) and master's degree in Aeronautical Engineering (US Naval Postgraduate School). He graduated from the US Naval Test Pilot School and Navy Fighter Weapons School (TOPGUN). Bill holds an international patent on a sensor technology for biotechnology applications.
About Anokiwave:
Anokiwave is a cutting-edge provider of highly integrated IC solutions that enable emerging mmW markets and Active Antenna based solutions. Anokiwave's creative system architectures and optimal selection of semiconductor technologies solve the toughest engineering problems.
Anokiwave operates design centers in San Diego, CA, Austin, TX, and Boston MA, with sales offices in Taipei, Taiwan, Boston, MA, and San Diego CA. Additional information can be found at www.anokiwave.com.
Press Contact:
Amy Corman
amy.corman@anokiwave.com
Stay in Touch with Anokiwave: