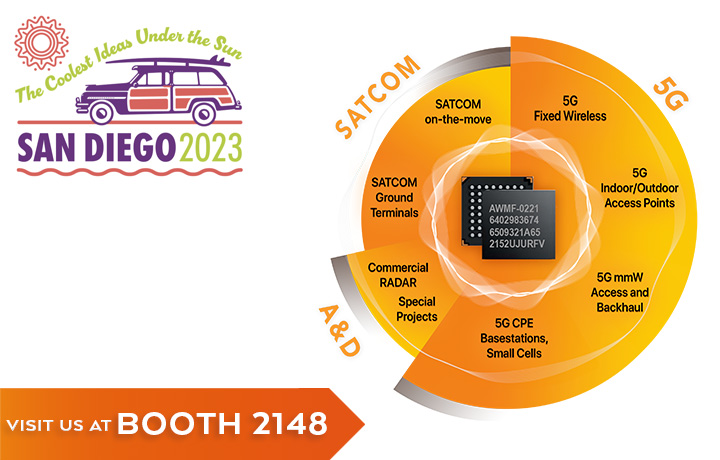 Boston, MA, US 6 June 2023: Anokiwave, Inc. continues its presence at the IEEE International Microwave Symposium to be held June 11-16, 2023, in San Diego, CA, USA with participation in Connected Future Summit and the exposition in booth 2148.
At IMS2023, Anokiwave will feature our portfolio of mmW silicon ICs, that are shipping in volume and commercially deployed in working antennas, that enable active antennas across multiple markets, specifically 5G, SATCOM, and Aerospace and Defense. This year at IMS, we will feature:

The full release of our 4th generation multi-band silicon 5G IC family that covers 24-43.5 GHz. The new IC family pushes the levels of performance and cost to a point where network operators can start to accelerate the builds of energy efficient, low cost, and small form factor mmW 5G radios, for every 3GPP FR2 band.
Our SATCOM Ku- and Ka-band ICs are used in multiple terminal designs operating live satellite links globally, and their performance, cost-effectiveness, and availability in volume enables customers to design, build, and deploy SATCOM systems with confidence in their choice of ICs for commercial success.
At the Connected Future Summit, to be held on June 13, Ryan Jennings, Anokiwave VP of SATCOM and Systems, will discuss ways in which SATCOM will play a key part in extending terrestrial 5G networks to air, sea, and other remote areas not covered by small cell networks and how active antennas are uniquely suited for this growth area.
"Building on the theme of "Always Connected", visitors at our booth will learn how our mmW Active Antenna ICs enable the future coexistence and convergence of terrestrial and non-terrestrial networks to increase connectivity for all," states Dr. Nitin Jain, Anokiwave Founder and CTO. "We provide OEMs unparalleled application expertise, leading to better array designs plus the experience to support customers in expanding their networks beyond traditional 5G or SATCOM use cases."
About IMS:
The IEEE MTT International Microwave Symposium (IMS) is the premier annual international meeting for technologists involved in all aspects of microwave theory and practice. It consists of a full week of events, including technical paper presentations, workshops, and tutorials, as well as numerous social events and networking opportunities. For more information, visit ims2022.org.
About Anokiwave:
Anokiwave is a cutting-edge provider of highly integrated IC solutions that enable emerging mmW markets and Active Antenna based solutions. Anokiwave's creative system architectures and optimal selection of semiconductor technologies solve the toughest engineering problems.
Anokiwave is based in Boston, MA and operates design centers in Austin, TX, Boston, MA, and San Diego, CA with sales offices in Taipei, Taiwan, Boston, MA, and San Diego, CA. Additional information can be found at anokiwave.com.
Press Contact:
Amy Corman
amy.corman@anokiwave.com
Stay in Touch with Anokiwave: