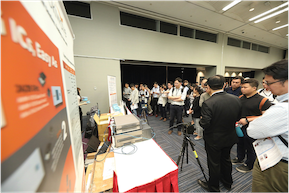 San Diego CA, 29 April 2019: Active mmW antennas will be deployed in unprecedented volumes over the next few years as 5G networks are now entering commercial deployment. The design of mmW array antennas will play a crucial role in the proliferation of 5G applications. The question of how to accelerate product development and overcome technical challenges to grasp the opportunities in the 5G future was the focus of Anokiwave's recent "5G Millimeter Wave Array Antenna Design Technology Seminar" hosted by DIGITIMES. The one-day seminar took place in Taipei, Taiwan and was met with overwhelming enthusiasm and response.
The seminar provided Anokiwave the opportunity to discuss its mmW IC solutions supporting multiple 5G use cases from macro-cells to CPE. Ball Aerospace, Auden Techno Corp., and ITRI (Industrial Technology Research Institute) also participated in the seminar and shared their views and experiences in the mmW 5G market. A full DIGITIMES coverage of the seminar can be found here.
"The sizable number of workshop participants is a testimony of Taiwan's strong interest in the mmW 5G market," states Ke Lu, Anokiwave Associate Vice President for Marketing and Strategy. "This further proves that Taiwan is the right place to find partners to continue to make mmW 5G a commercial reality."
"Working with Taiwanese companies with strong electronics manufacturing capabilities is critical," states Alan Chang, Anokiwave Asia Pacific Director of Sales. "Combining Anokiwave's technical solutions with Taiwan's manufacturing capabilities will accelerate the implementation of 5G mmW applications."
Anokiwave's unique and advanced design capabilities enable the industry's highest performing 3GPP compliant 5G radios with application from 5G infrastructure to Consumer Premise Equipment (CPE). The company has recently introduced its 3rd generation of mmW dual polarization 5G beamformer ICs at 24/26 GHz, 28 GHz, and 37/39 GHz. Utilizing 300mm Silicon CMOS process, Anokiwave ICs provide the optimum balance of low cost and high-performance. Thereby, today Anokiwave is the industry's trusted provider of mmW Silicon ICs for high volume commercial deployments of 5G systems worldwide.
About Anokiwave:
Anokiwave is a cutting-edge provider of highly integrated IC solutions that enable emerging mmW markets and Active Antenna based solutions. Anokiwave's creative system architectures and optimal selection of semiconductor technologies solve the toughest engineering problems.
Anokiwave operates design centers in San Diego, CA, Austin, TX, and Boston MA, with sales offices in Taipei, Taiwan, Boston, MA, and San Diego CA. Additional information can be found at www.anokiwave.com.
Press Contact:
Amy Corman
amy.corman@anokiwave.com
Stay in Touch with Anokiwave: