Ke Lu

5G, Active Antennas, Silicon Core ICs
5G is here and on everyone's minds – whether it's news from the regulatory groups about standards or bands of operation or a new product or trial, we see it everywhere. We last wrote that 2017 was the year of 5G – 5G trials, announcements, and demos – all contributing to the excitement. We started 2018 with industry anticipation for 5G at an all-time high.
The excitement started last December with the 3GPP Release 15, which specified the first elements of the 5G NR (5G New Radio) standard with far reaching implications – prompting the industry to move from experimental phase to development and deployment phases.
In February, MWC 2018 brought over 107,000 of the industry's top innovators to Barcelona to explore how mobile is "Creating a Better Future". On the first day of the event, U.S. FCC chairman Ajit Pai announced that the commission is prepared to quickly make 5G-ready wireless spectrum, including mmW, available through auctions. Pai noted, "To get spectrum into the hands of companies that are going to use it for 5G, the FCC has already approved secondary market transactions this year involving 28 and 39 GHz spectrum." He added, "I'm excited to announce today that it is my intention for the United States to hold an auction beginning this November of spectrum in the 28 GHz band, followed immediately thereafter by an auction of spectrum in the 24 GHz band." We are well aware of the U.S. spectrum use of 28 GHz and 39 GHz for mmW 5G; the surprising comment was that the 24 GHz band will be added to the mix. It is important to note that US service providers have spent >$3B in 2017 for mmW spectrum rights. This means that 5G deployment can move ahead without waiting for the auction since the FCC decided in 2016 that existing fixed services licensees could deploy technology in three key target bands: 28 GHz, 37 GHz, and 39 GHz for mobile services as well as fixed.
August finally brought the announcement of the FCC bidding procedures for the upcoming 28 GHz and 24 GHz auctions and proposed next steps in getting the upper 37, 39, and 47 GHz bands ready for a single auction in the second half of 2019.
The 24.25 – 27.5 GHz range, referred to the as the 24 GHz band in the U.S. and China and the 26 GHz band – deemed the Pioneer Spectrum band in Europe, joins 28 GHz and 37/39 GHz as the emerging 5G mmW bands worldwide. Looking at the below graphic, we see the world converging on these three bands.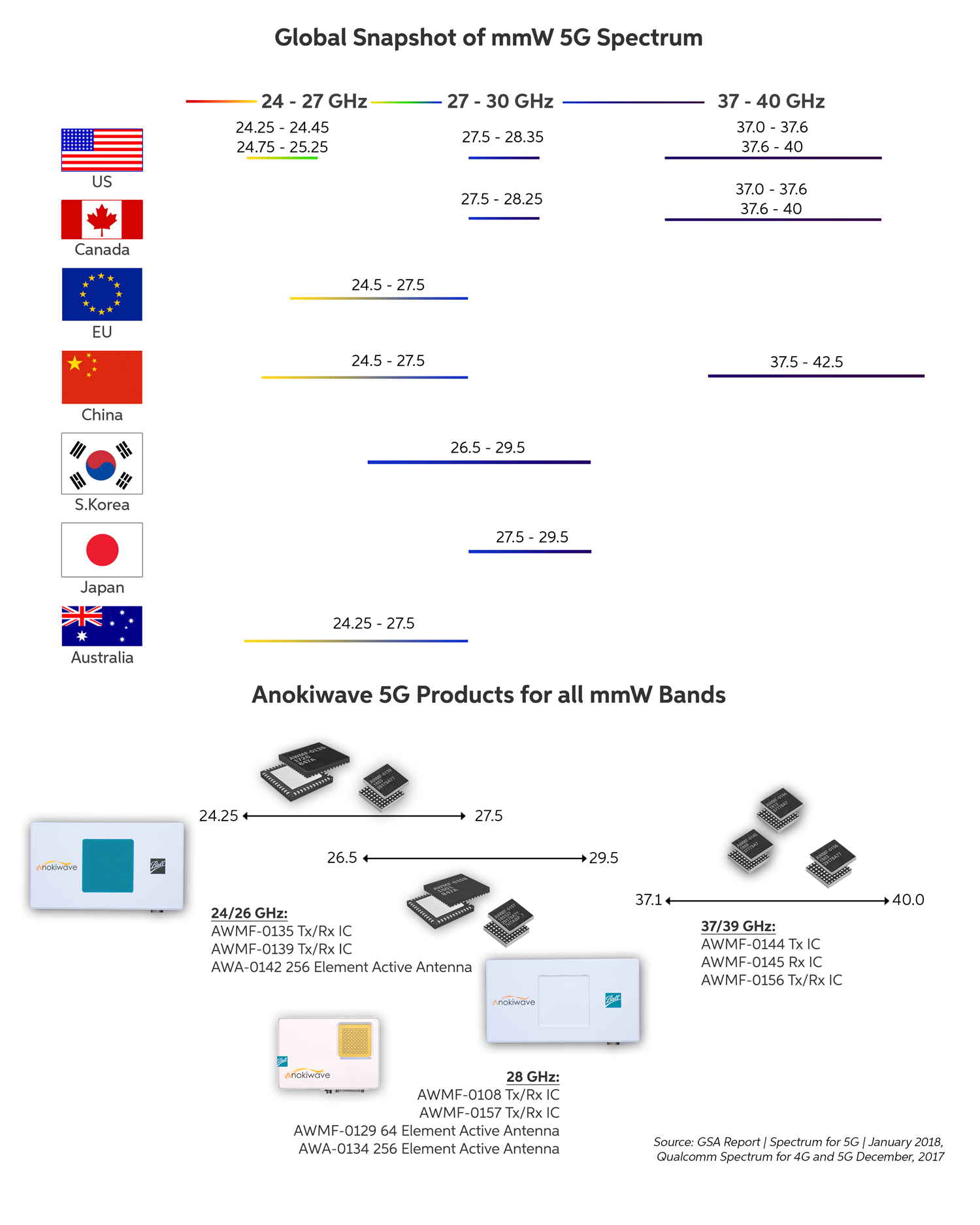 Anokiwave is ready now for commercial 5G deployments with our second generation family of ICs, following years of experience executing on an aggressive strategy to develop and deliver the technology needed for mmW 5G networks. We offer highly integrated Silicon ICs with embedded functions for remote telemetry and fast beam steering™ at all major mmW 5G bands – 24/26 GHz, 28 GHz, and 39 GHz to our customers. Anokiwave was first in the market with Generation 1 5G ICs in 2016 and 2017, and have recently introduced our new 5G Gen-2 IC family that supports 3GPP compliance across all bands – 24/26 GHz, 28 GHz, and 37/39 GHz. We also offer Active Antenna Innovator Kits, based on our ICs to demonstrate the performance achievable using low power silicon integration and efficient antenna layout and design.
As additional mmW bands become available, you can count on Anokiwave to lead the way with innovative IC solutions. Interested in joining us? Check out some of our career openings.
Download the full text of chairman Pai's address at MWC2018.